Shane Burt

Information

Full Name

Nickname(s)

Gender

Date Of Birth

Eye Color

Hair Color

Shane James Burt




Male

August 4, 2003

Blue

Dirty Blonde

Network

Family




School

Affiliation(s)

First Episode

Portrayed By

Mary Holmes Burt (Mother)

Tim Neve Burt (Estranged Father)

Degrassi Community School

BasketBall Team

N/A
Shane James Burt Is Starting His Year At Degrassi Communtiy School As A 7th Grader. He Enters As A Class Clown But Total Flirt At Degrassi. He Is Best Friends With Jamie Boston, Matt Stevenson And Ryan And Jake Heddler. He Is A BasketBall Player Along With His Friends And Loves Chatting Up With Cuties At Degrassi, Meaning 8th Graders. He Is Mostly Interested In Older Girls Hinting Him Only Hitting On 8th Grader Girls. He Is Described As Obnoxious And A Class Clown, He Mostly Hangs With His Friends. He Also Has A Crush On 8th Grader, Galleria Montez . He Resembles And Is Portrayed By Hollywood Actor, Ryan Gosling.
Early Life

Edit
Shane James Burt Was Born August 4, 2003 In Canada, Toronto By Mother, Mary Holmes Burt And Estranged Father, Tim Neve Burt. Ever Since Shane Was Born He Has Been Estranged From His Father, Who Left When He Was Only 4. Shane Quietly Deals With His Dad's Absence Horribly As He Finds Comfort In Trying to Fit In At School. He Never Had That Equal Attention At School So He Finds Comfort In School And Tries To Be The Most Funniest And Outgoing Any Guy At His School Could Be. During His Life, He Mostly Played Sports Like Basketball And Football But Mostly Stood Next to Basketball. In 3rd Grade He Met One Of His Best Friends, Jamie Boston And They Formed A Friendship Until Matt Stevenson Came Along In 4th Grade And The Heddler Twins In 5th To Finish The Group.
Appearance
Edit
Season 1
He Mostly Wears Cool T's And Jeans And Sneakers. He Also Wears Silly Shirts And Mostly Keeps His Hair Clean And Sharp. He Also Wears Big Sweaters Over His Shirts.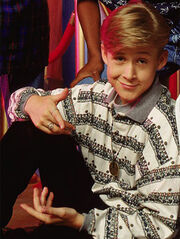 He Does Have Similarities With Other Classmate, Tatum Hendricks
He Has A Big Crush On Classmate, Galleria Montez
He Deals With His Dad's Departure By Hiding In His Behavior At School
He Doesn't Like Girls Who Are Underclassmen 
He Is A Basketball Player
He Is The Only One In His Group That Always Confuses Jake And Ryan Heddler Together
He Wants to Be Popular In School
He Thrives For A Successful Life And Family With A Hot Supermodel
He's Into Older Girls
He Has Similarities With Former Degrassians, Late J.T. Yorke And Dave Turner.
Relationships
Edit
Family
Mary Holmes Burt (Mother)

​Background: Ever Since His Father Left, They Both Have A Regular Mother And Son Relationship With Mom Working Two Jobs And Him Seraching For Attention. They Always Have Dinner Night As His Mom Struggles With The House Bill And Handling Two Jobs, Putting Food On The Table And Putting Clothes On Shane's Back
Friendships
Relationships/Crushes/Attraction