Hallie Barns

Information

Full Name

Nickaname(s)

Gender

Date Of Birth

Eye Color

Hair Color

Hallie Mackenzie Barns




Female

February 20, 2003

Brown

Light Brown

Network

Family




School 

Affiliation(s)

First Episode

Portrayed By

Linda Reese Barns (Mother)

Randy Mane Barns (Father)

Degrassi Community School

N/A

N/A
Hallie Mackenzie Barns Is Starting Her Year At Degrassi Community School As A 7th Grader. She Enters As The Genius Who Cares Leaslty About Her Looks. She Is Known As A Typical Know-It-All Like Her Best Friend, Milly Blake. Even Though She May Be Smart And A Little Snobbish But She Is Far From Arrogant And Obnoxious, She Also Much More Friendlier, Nice And A People Pleaser. Hallie May Have Her Studies And Books On Her Mind But That Doesn't Stop Her From Crushing On Thomas Brother, Hayden Thomas . Will She Get Him to Be Hers, This Year? Or Will She Just Keep it To Herself And Admire Far Away? Hallie Resembles And Is Portrayed By English Actress, Emma Watson.
Early Life

Edit
Hallie Mackenzie Barns Was Born February 20, 2003 In Canada, Toronto By Her Mother, Linda Reese Barns And Father, Randy Mane Barns.
Hallie Is Described As A Outgoing And Friendly Girl Who Had A Determination to Be On Top, She Is Very Competitive And Mostly Spends Her Time, Reading And Doing Schoolwork, Ever Since She Was Little She Always Dreamed Of Making It Big And Successful In A Political Way And Going to Harvard With A Scholarship. In 3rd Grade She Met Her Best Friend, Milly Blake And They Kept Their Close Friendship Going. In 6th Grade She Met Cameron Baker-Nelson, Destiny Klark, Hayden Thomas And Zach Thomas, In Which She Started Gaining Her Crush On The Oldest Brother, Hayden.
Appearance
Edit
Season 1
Hallie Is A Very Studious Girl Who Mostly Wears T-Shirts, Jeans And Sneakers. Mostly She Would Leave Her Hair Down, A Little Frizzy But Sometimes She Would Have Her Top Hair Up In A Ponytail With The Rest Of the Bottom Hair Flowing Down.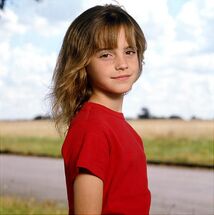 She Has Similarites to Former Degrassian, Liberty Van Zandt
She Is The Most Smartest (Besides Milly Blake) Out Of All The 7th Grade Girls
She Wants A Future In The Politics
She Wants to Go to Harvard
She Wants to Make Her Parents Make Proud Of Her
She Has A 2-Year Crush On Degrassian, Hayden Thomas
She Is Best Friends With Milly Blake
Relationships
Edit
Friendships
Relationships/Crushes/Attractions
Hayden Thomas (Unrequited Crush)

​Start Up: 6th Grade
Background: Hallie Took Notice of Him When He Entered Her Homeroom Class And She Had Fallen In Love With Him At First Sight, She Liked How He Was Smart Just Like Her And Organzid Like She Was, Much to Hayden's Dismay.